Books
Coffee
Kid's Books and Toys
Gifts for Everyone!
​
Rocky Mountain Literary
Festival Sponsor
HOURS
Mon - Sat: 10-6
Sunday: 12-5
303-670-4549
Tue, Oct 08
|
Hearthfire Books and Treats
Leading the Way - Book Launch and Community Event
Theresa Howell Book Launch "Leading the Way: Women in Power" and Community Event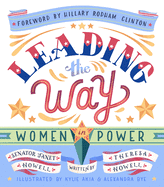 Time & Location
Oct 08, 2019, 5:30 PM – 6:30 PM
Hearthfire Books and Treats, 1254 Bergen Pkwy # D122, Evergreen, CO 80439, USA
About the Event
Beloved Evergreen resident Theresa Howell will celebrate the launch of her most recent book, Leading the Way: Women in Power. Written in conjunction with Senator Janet Howell, with a forward by Hillary Clinton, the objective of the book is to share the stories of fifty brave women who have shaped American politics throughout history and to empower each of us as individuals to make a difference. Complete with a "Take Action Guide" in the back, Leading the Way: Women in Power is the inspiration we all need to get out, do something, and follow our passion. Please see the trailer below.  
In that spirit, we want to encourage young and old to get involved in the world today. In conjunction with the book launch, we are holding a community event that will include organizations to inspire community involvement, join in conversation, and to provide guests the opportunity to learn something and get involved, whether it's signing up for a newsletter, registering to vote, signing a petition, joining an organization, etc.